Tonight I met my husband in Ft Smith for dinner. We decided to just keep it simple and went to Chick-Fil-A. I don't know if you are aware of this, but every 100th customer gets a $10.00 discount on their meal. So, as you may have guessed, WE WERE the 100th customer.

So, let me share how the story played out for us. My husband took the boys to get a table and get everyone situated. I am standing up at the counter and ordering, when the clerk says, "hey, laura I need some help over here!" I'm thinking, "great this is going to take forever, I got the new clerk who doesn't know how to upsize the waffle fries". When the manager came over she pushed a series of numbers that I swear took 2 minutes. Then the clerk looked at me like he still didn't know what was going on.

Then, all of a sudden, Laura (the manager) started ringing this incredibly loud COWBELL and all the staff starting yelling really loud. Then they explained that I was getting a $10.00 discount on my meal, along with a beatiful pink rose because we were the 100th customer. SO COOL. I've seen it happen in the drive-thru to the customer in front of me, but this time IT HAPPENED TO THE BAKER FAMILY.

Ok, reality check, it's only $10.00 dollars, but we fed the entire family of 4 tonight for $9.36 cents. How cool is that? Money Saving Mom would be so proud (http://moneysavingmom.com) My husband and I instantly started laughing saying, "We need more cowbell!" HA HA HA HA

I hope your Saturday turns out as good for you. Since I don't like to post without a photo..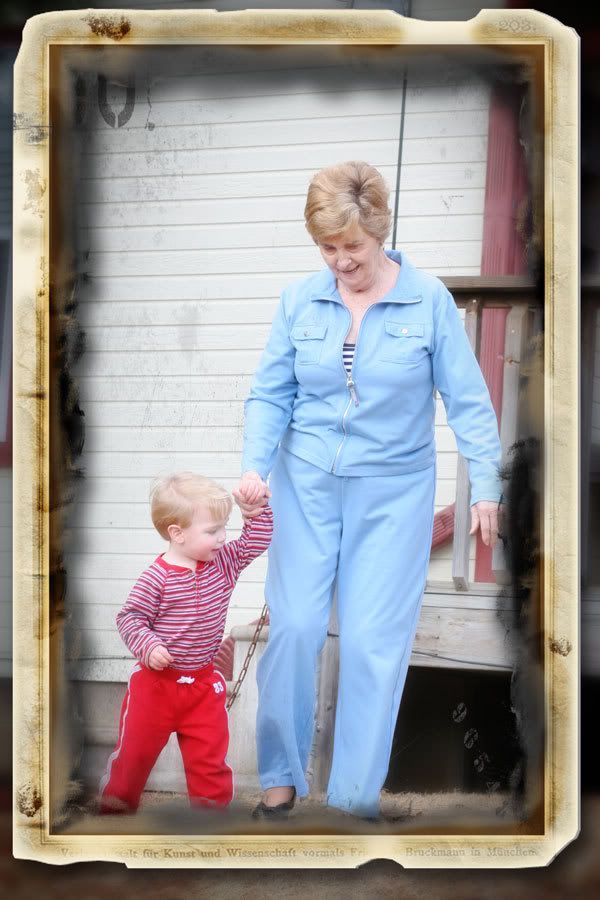 This is my grandmother with my baby boy. That makes this his great-granny. How awesome is it that I will have photos of the two of them together for him when he's older. And this is HER baby. She just adores him. Sweet baby this, sweet baby that. It's very special. I hope that you enjoy seeing love like that in your life. Gosh, I'm feeling very sentimental this evening. It could be the pain meds from the dental work :)

Til later,
DB